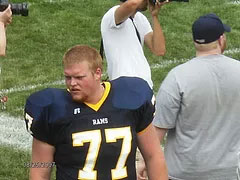 Derek A. Cooper was born on January 9, 1987 to Terry and Cindy Cooper, Winchester, Virginia Frederick County Virginia. Derek graduated from James Wood High School, Class of 2005 and Shepherd University, Class of 2011. Derek passed away unexpectedly on June 7, 2012.
Derek was employed as a math teacher and football coach at James Wood High School in Frederick County, Virginia. Derek was down to earth and trusted by others; he had a real heart for people. He could light up a room with his warm smile and ability to find the good in everyone. He was an avid outdoorsman and enjoyed hunting, fishing, and camping. He was passionate about football with the James Wood High School Colonels, the Green Bay Packers, and West Virginia
Mountaineers. Once you met Derek, he left a lasting impression that you would never forget. He was a well-rounded young man that had so much to offer and share with others. Derek A. Cooper is missed everyday by family and friends.
Derek's is remembered daily by family and friends. His saying, is repeated regularly:
"Have A Great Day Not because of what you are doing, but Because you want it to be a great day!" Derek Cooper.
In 2017, a group of Derek's friends formed the Derek A. Cooper Memorial Fund. The main purpose of this organization is to raise funds to award a scholarship to a graduating student-athlete of James Wood High, Winchester, Virginia (Frederick County Virginia Public Schools). As this organization continues to grow, our goal is to provide a Football Camp for Lineman. We also, want to ensure Derek's passion for the outdoors and sports continues to inspire student athletes.